2022 Plenary Speaker / 主题演讲人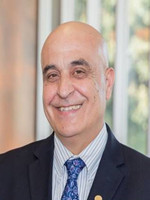 Prof. Issam Ghazzawi, University of La Verne, USA
Speech Title: TBA
Biography: Issam A. Ghazzawi, Ph.D. is the Professor of Management and the Sam Walton Fellow at the University of La Verne. Professor Ghazzawi offers courses in organizational design, organizational theory, organizational behavior, human resource management, and management. He received his Ph.D. from the University of Pittsburgh; his Masters in Labor and Human Resources (M.L.H.R.) from The Ohio State University; and his Masters in Business Administration (MBA) from Sul Ross State University. He serves on the Editorial Review Board of several academic Journals.
Over the years, Dr. Ghazzawi received numerous academic awards on the local, national, and the international levels. Additionally, he received numerous community, State of California Assembly, State of California Senate, United States Congress, and the United States Senate awards and recognitions.
Professor Ghazzawi has more than 20 years of executive management experience. He worked with companies in the fields of Technology, Commercial Real-estate Development, and Environment. He served on various organizations' channel advisory board, including Lexmark International, Inc.; Microsoft Corporation; Targus; and Lenovo USA. Additionally, he served as an advisory board member for ITT Tech of San Bernardino, CA, and a member of the board of directors for the United Cooperatives of Ontario "UCO", Canada's largest cooperative group located in Toronto, Canada. Currently, he is a member of the board of directors for the Institute for Global Research "IGBR" https://www.igbr.org/about/
His research focuses on job satisfaction, goal setting, organizational effectiveness, leadership, and organizational commitment. Professor Ghazzawi has published articles in various journals such as: The American Journal of Management (AJM); Journal of Case Research and Inquiry (JCRI); Business Review, Cambridge (BRC); the Journal of American Academy of Business, Cambridge (JAABC); the Journal of Entrepreneurship Education (JEE); the Journal of the Academy of Business Administration (ABA); the Journal of the International Academy for Case Studies (JIAC); the Journal of the Organizational Culture, Communications, and Conflict (JOCCC); the Business Case Journal (BCJ); SAM Advanced Management Journal (AMJ); the International Journal of Management Cases (IJMC); Journal of Legal, Ethical and Regulatory Issues (JLERI); Academy of Educational Leadership Journal (AELJ); Mondo Project Management (MPM); Journal of Strategic and International Studies (JSIS); the International Journal of Entrepreneurship (IJE), International Leadership Journal (ILJ), and the International Journal of Contemporary Hospitality Management (IJCHM). He is the past president of the Western Case Writers Association.